What is a Request for Evidence?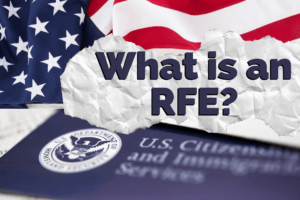 An RFE is a Request for Evidence. USCIS sends RFEs after you have filed an immigration application. If USCIS needs information or documents that you did not include in your application, USCIS will send you an RFE. Sometimes, however, USCIS makes a mistake and requests information or documents that you've already submitted. Even if USCIS made a mistake, you still must respond to the RFE before the deadline on the RFE. At our firm, we receive many mistaken requests, and we respond to the RFE with an explanation that the information or document was already included, we submit a new copy of the document, and we ask USCIS to return to processing the application as soon as possible. We also note that the RFE caused an undue delay and that we'd like the case expedited. 
USCIS's RFE's cover almost all types of missing information and documents. USCIS may send an RFE because a signature is missing on an application. USCIS may send an RFE because a particular box on the application is not complete; because of this, we always answer ALL questions with an answer or with "none" or "n/a." Do not leave any boxes or fields empty!
USCIS's RFE's can request much more complicated information. Sometimes the RFE essentially asks you to re-prove your case with more legal arguments and more documentation. 
Most of the time USCIS sends an RFE instead of sending a denial, but in some cases, USCIS issues denials without requesting the missing information or document. While this is rare, it is a reason to make sure that your entire application is complete and all supporting documents are submitted the first time you submit an application. At our firm, we very rarely submit non-complete applications. Other firms may submit a bare-borns application with the expectation that they will be able to supplement the application when USCIS sends an RFE. 
If you need to talk to an experienced immigration attorney. We've helped hundreds of people traverse the complicated immigration and citizenship process. We would love to help you as well.  Call (617-272-7980) or email hello@cambridgeimmigrationlaw.com to get in touch.