How much money does my spouse need to make to sponsor me for a green card?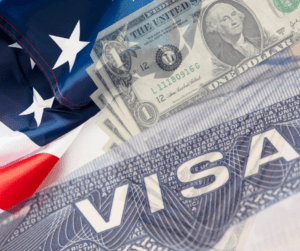 The USCIS stipulates that your spouse must earn 125% of the poverty threshold for your household size in order to sponsor your green card. Your household size will be your spouse, plus you, plus any dependents who live with you (children or other dependents listed on your spouse's taxes), and anyone your spouse has previously sponsored for a green card. In 2022, for a family of two (you and your spouse), your spouse must earn $22,887 per year. In 2022, for a family of five, your spouse must earn $40,587. You can find the income requirements at https://www.uscis.gov/i-864p. Your spouse files Form I-864 with required documents with your application to adjust status (Form I-485).
Your spouse needs to prove that s/he earns the minimum required amount as of the day that the I-864 is filed. Your spouse should submit a recent (less than one month old) letter from the employer, recent pay stubs showing year-to-date-earnings, the past three years W2 forms, and IRS tax transcripts (not just Form 1040 that you or your accountant files). If your spouse has not earned the required salary for the past three years, that should not matter as long as you have strong evidence of the income on the day of filing. 
You may be able to add your income to the household income if you are authorized to work in the US, and in some consular cases, if you are working outside the US and your income will continue when you move to the US. 
If your spouse does not earn the minimum salary required, you can ask a US citizen or green card holder family or friend to help. This person would be a "Joint Sponsor" and would file Form I-864 and all required documents. 
If you need to talk to an experienced immigration attorney. We've helped hundreds of people traverse the complicated immigration and citizenship process. We would love to help you as well.  Call 617-676-0503 or email hello@cambridgeimmigrationlaw.com to get in touch.