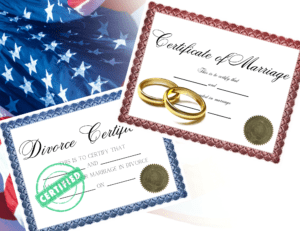 If you're trying to figure out if you're eligible to get a green card based on your marriage to a US citizen or lawful permanent resident, you need to get some marriage documents in order. First, you'll need a certified copy of your current marriage certificate. If the certificate is not in English, you'll need an English translation of the document. You can use an online translation service, or you can use a simple Certificate of Translation, like we will show you here. Just make sure that neither you nor your spouse does the translation. 
Next, you will need copies of all marriages and divorces for you and your spouse. It's best to have certified copies of these documents, but generally you can get by with any acceptable copy. You need to get all marriage and divorce certificates, even if they are from decades ago! If you absolutely cannot get them, you must provide a sworn statement of your efforts to convince USCIS that the document is in fact not available. USCIS will not accept a document as unavailable just because it's a huge pain for you to try to get it. 
When information about a marriage or divorce is difficult to obtain, do not make the mistake of leaving it off the immigration applications. That decision could come back to haunt you in the form of a charge of misrepresentation, which will add years and thousands of dollars of cost onto your immigration process. 
For all marriage and divorce documents, you need to check that they comply with the format that the US Department of State defines for each country. You can find those requirements at this link. If your marriage took place in the US, then your marriage certificate from the registry in your town/city is what you'll need. 
If you need to talk to an experienced immigration attorney. We've helped hundreds of people traverse the complicated immigration and citizenship process. We would love to help you as well.  Call (617-744-7919) or email hello@cambridgeimmigrationlaw.com to get in touch.