What happens after my immigrant visa interview at the US Embassy?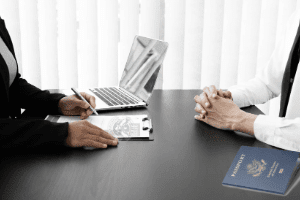 Congratulations! You had your immigrant visa interview! As you know, the immigrant visa interview is the last step outside the US before you enter the USA to become a lawful permanent resident who holds a US "green card."
About two weeks after your embassy interview, the embassy will return your passport with an "immigrant visa" in the passport by whatever means your particular embassy uses. If you have not received your passport within a week or so, contact our office if you are working with our team. Also, if you are working with our amazing team, please send us an image of your visa once you receive it so we can save it into your file and verify all of the details are accurate.
This immigrant visa in your passport will allow you to enter the US as an "immigrant", and the moment you enter the US you become a Lawful Permanent Resident. After you get your passport with your immigrant visa, you will have 6 months to enter the US. When you enter the US, US Customs and Border Protection will log your entry and that will immediately trigger the production of your green card. Usually, USCIS produces the green card and mails it t you within 30 days of entry. While you wait for the green card, you can use the visa in your passport to get a state ID, show authorization to work, and to travel in/out of the US. 
The green card will be mailed to your address on file. Our clients' green cards are mailed to our office, and when we receive the green card, we coordinate with the client to deliver it to the client. 
When you arrive in the US for the first time, the Social Security Administration agency will produce and mail you a "social security" card. The social security card should arrive in about 1 month. If it does not, you can visit a local Social Security Administration office to request the card. 
If you enter the US on an immigrant visa before your 2-year wedding anniversary, your green card will be a Conditional Lawful Permanent Resident card valid for 2 years. Before your green card expires you will need to file a I-751 petition to remove conditions on your green card, and you must file the I-751 petition in the 90 days prior to the expiration of the 2-year green card. The application will involve proving (again!) to the US government that your marriage is real. You should contact our firm about 6 months before the card expires so that we can begin working on your I-751 petition.
Three years from the date that you become a Lawful Permanent Resident, you may be eligible for US citizenship. Contact our firm about 2.5 years after you firm become a Lawful Permanent Resident so we can help you with your US citizenship application. Note: Your I-751 Petition probably still be pending at the time you file your US citizenship application. 
If you need to talk to an experienced immigration attorney. We've helped hundreds of people traverse the complicated immigration and citizenship process. We would love to help you as well.  Call (617-272-7980) or email hello@cambridgeimmigrationlaw.com to get in touch.