How can I use assets for financial sponsorship for a green card?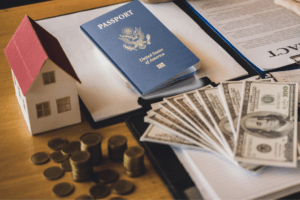 If your sponsor–generally your US citizen spouse–doesn't make enough money to sponsor your green card, your spouse can use assets to supplement or replace income. Your spouse can use a savings account, retirement account, and other types of liquid accounts. Your spouse can use equity in a home or even a car. The assets will need to amount to three, or five, times the income requirement. So, for example, for a case based on marriage to a US citizen, if the sponsor needs to make $25,000 in income, but the spouse isn't working, the spouse can show equity in a home in the amount of $75,000. 
Here at Cambridge Immigration Law we encourage applicants to find joint sponsors over using assets because requests to use assets almost always slows down our cases. The reason is that USCIS seems to have difficulty reading asset statements and almost always asks for additional documentation of the value of the asset, ownership of the assets, or liquidity of the asset.
If you need to talk to an experienced immigration attorney. We've helped hundreds of couples traverse the complicated immigration and citizenship process. We would love to help you as well.  Call 617-744-7919 or email hello@cambridgeimmigrationlaw.com to get in touch.