First steps in Representation: Questionnaire and Document Request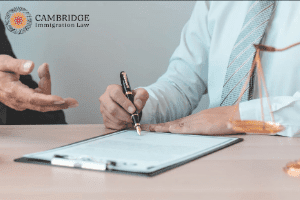 Congratulations on starting your US immigration journey with Cambridge Immigration Law. We are grateful that you decided to entrust us with the important task of helping you achieve your life goals through your US immigration journey. 
After you sign your Representation Agreement and set up your payment plan, your case is officially opened and our Legal Team takes over. A few days after your case is opened, our Legal Team will email you an invitation to set up a Kick-Off meeting. In that meeting, our attorney will review your case strategy with you. Our paralegal will obtain your signature on documents to start the case. Our paralegal will also review what information and documents we will need from you. 
Our paralegal will follow up with you after the meeting by sending an email that has a link to an online questionnaire and online document request. The online questionnaire is hosted by Docketwise, a secure online portal designed exclusively for immigration attorneys and their clients. The document request is hosted by Lawmatics, another secure online portal for the legal industry that stores your documents that we will use for your case. 
As you get started with the online questionnaire and document request, please reach out to our Legal Team with any questions. You may not understand or be able to answer a particular question. You may not have certain documents that we have requested. Let us know, and we will help. 
If you need to talk to an experienced immigration attorney. We've helped hundreds of people traverse the complicated immigration and citizenship process. We would love to help you as well.  Call (617-272-7980) or email hello@cambridgeimmigrationlaw.com to get in touch.