Biden Addresses Immigration in Thursday Press Conference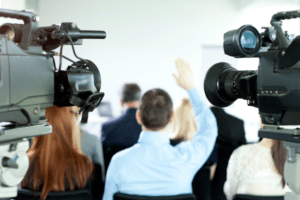 A significant portion of President Biden's Thursday afternoon press conference was dedicated to the topic of immigration. It has become a major point of contention among legislators in the past few weeks as more migrants have arrived at the southern border. According to Homeland Security Secretary Alejandro Mayorkas, the United States may see the highest number of migrant arrivals in recent history. In response, many Republican congressmen have criticized Biden's immigration policies, blaming their relative leniency for the uptick in migration.
Despite Republican criticism, Biden has defended his policies and the immigrants they support. "Rolling back the policies of separating children from their mothers? I make no apology for that. Rolling back the policies of 'Remain in Mexico,' sitting on the edge of the Rio Grande in a muddy circumstance with not enough to eat? I make no apologies for that," Biden said during the conference. He instead pointed to seasonal patterns and the changing conditions within various countries as possible causes of increased migration.
The president's rhetoric today regarding the topic of immigration is important, especially his avoidance of the word "crisis" when talking about the situation at the border. The term has become popular in the past few days among many Republicans advocating for harsher immigration laws. But the "crisis" is not the arrival of migrants, as these congressmen would like to lead the public to believe. Rather, it's the poor conditions the migrants have been met with. The country's duty is to humanely address the latter issue, and acknowledge the former for what it is—the divisive politicization of people merely seeking a new life.