Are you Canadian and applying for a marriage-based green card? There are special (usually positive) issues for Canadians as related to entering the US.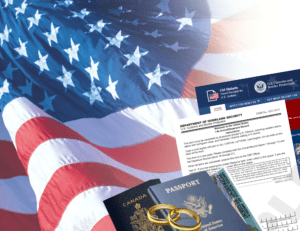 Canadians are entitled to various benefits when they enter the US. First, the visa requirements are much more lax for Canadians. Most Caan tourists do not even need a visa in their passport to enter. Many Canadians entering the US on certain visas such as the H1B or L can process their visas at the border and may in some situations be able to enter with just an I-797 Notice of Action Approval Notice. Also, Canadians are entitled to TN visas, which are available to both Canadians and Mexicans. Canadians can apply for TN visas right at the border or airport, but Mexicans must apply at an embassy, which makes the process much slower and more expensive. 
With all that background, you will not be surprised that Canadians are in a better situation than most when applying for a marriage-based green card. That is, if you are applying for a marriage-based green card, you need to show proof of entry, usually with form I-94. Canadians are generally exempt from that requirement–the US government generally will just believe your statement about when you came into the US. Wow! If only the US could trust other noncitizens as much as it trusts Canadians!
If you need to talk to an experienced immigration attorney. We've helped hundreds of people traverse the complicated immigration and citizenship process. We would love to help you as well.  Call (617-766-0214) or email hello@cambridgeimmigrationlaw.com to get in touch.