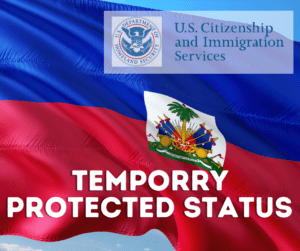 The Secretary of Homeland Security, Alejandro Mayorkas, announced a new Temporary Protected Status designation for Haiti for eighteen months, beginning May 22nd. This new designation allows Haitian nationals, as well individuals without nationality who last resided in Haiti, to apply for TPS, provided they are already residing in the United States as of May 21st, 2021 and meet certain eligibility requirements. To determine eligibility, all individuals will undergo security and background checks. Current Haitian TPS beneficiaries will also need to file a new TPS application to ensure they do not lose coverage.
According to Secretary Alejandro Mayorkas, the decision to grant Haiti Temporary Protected Status designation status comes in response to "serious security concerns, social unrest, an increase in human rights abuses, crippling poverty, and lack of basic resources" in the country. These are situations exacerbated by the 2010 earthquake and the COVID-19 pandemic. 
Temporary Protected Status protects individuals of designated countries from deportation on the basis of immigration status. Individuals eligible for TPS under Haiti's new designation must first file an application with the United States Citizenship and Immigration Services to be granted TPS status. The registration period will begin with the publication of the Federal Register notice.  Individuals applying for TPS may also request an Employment Authorization Document or travel authorization.
Find more information here: https://www.dhs.gov/news/2021/05/22/secretary-mayorkas-designates-haiti-temporary-protected-status-18-months