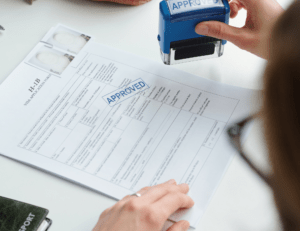 Once your H-1B petition is approved, you can get the visa stamped in your passport. If you are already in the United States, it is not required to get the stamp before working on your H-1B visa. However, if you are outside the U.S. or are planning to travel outside the U.S., then you'll need a visa stamp.
The first step is scheduling an appointment for a visa interview with the U.S. consulate or embassy. This can be in your home country or a third country, if their rules allow it. You'll need to visit the official website of the U.S. Department of State to complete the online DS-160 visa application form and pay the associated visa fee.
The documents required for the interview are different than the supporting documents for the H-1B petition. You should bring the following documents to the interview:
A valid passport with a validity date at least six months beyond your entry in the U.S.
A copy of the H-1B approval notice (Form I-797)
A copy of Form I-129 and its supplements submitted with your petition
A copy of the certified LCA
The DS-160 confirmation receipt
Passport-sized photos meeting specific requirements
Educational and professional certificates
If you've been working in the U.S., then your last three paystubs
At the visa interview, a consular officer will ask you questions about your intended job, employer, and other relevant details about your position such as job duties. It's crucial to answer truthfully. Depending on the consulate, you may be required to provide biometric data, including fingerprints and a photograph.
Sometimes the consular officer will give you a decision at the interview. Or you may be requested to provide additional information. Or your case may go into administrative processing. Or you may get a denial and the reason for it.
If approved, your passport will be stamped with the H-1B visa, which can take a few days to a couple of weeks. This allows you to come to or re-enter the United States.
If you need to talk to an experienced immigration attorney. We've helped hundreds of people traverse the complicated immigration and citizenship process. We would love to help you as well.  Call (617-744-7919) or email hello@cambridgeimmigrationlaw.com to get in touch.